Summer is here! After hours spent outside playing and having fun, we come home still wanting a comfortable and beautiful space to relax. We have gathered 5 beautiful summer living spaces to cool you down after a long day in the sun. We love them because they bring summer colors inside while having a refreshing effect on any space.
For a beautiful living room all you need is accent pillows, art, curtains, a throw and table accents. The rest is add-on's that can be integrated into your space at a later date. We'll showcase in this post how these 
5 essentials
are a game changer in your summer decor. 
Photo by MERITXELL RIBÉ - THE ROOM STUDIO
-
Scandinavian design has a minimalistic approach and usually lots of neutrals. This living room however, has the right amount of color in combination with natural materials like wood, jute and wicker. The wall art is vibrant with lots of summer colors yet blends perfectly with the neutral undertones in the walls, furniture and floor.
Asymmetry in pillows is one of our favorite ways to decorate a small space. The wall art in this living room brings summer joyfulness and having similar colors in the decor items (pillows, throws and table accents) bring effortless cohesiveness. The variety of fabric patterns and colors give this space an intricate yet beautiful design.
While most designers struggle decorating small spaces, here at Swift Decor we absolutely love areas with constricted space. Simplicity is the ultimate sophistication! The two coffee tables give a casual yet modern atmosphere. The wall art adds to the casual theme in this space by just leaning over the mantel and the pillows give a pop of brightness to the sofa. The summer blue of the wall gives a hint of that breezy feel we are looking for in a masculine inspired room.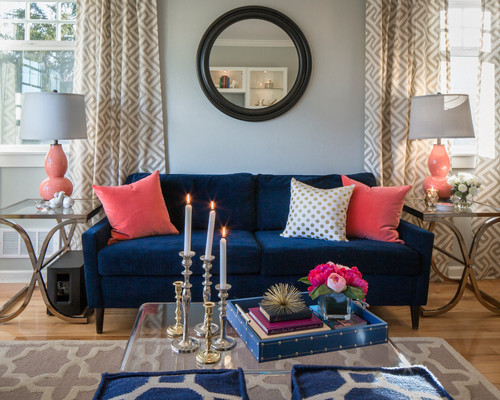 Alternative to traditional art, mirrors are a great addition to any small space by giving an illusion of a larger room. The table lamps add symmetry to the space and 3 accent pillows is a perfect number not to overwhelm the sofa. The glass coffee and side tables bring out a sophisticated look while un-cluttering the room. In this room we love how the bright summer coral color in the pillows and lamps light up the entire space.
Sign me up for Loft living at its finest! This tiny space features a living room and bedroom in the same space all cohesively placed together in gray, white and black. The sheep skin over the lounger is classic scandinavian touch that goes well in any setting. The wall art collage creates the desired asymmetry in this type of design with its minimalistic approach. The throw blanket and the accent pillows complement the sofa perfectly. Summer inspired spaces are also achieved by bringing the outdoors in; bright sunny windows with greenery in every surface. Naturally timeless.
Summer living doesn't have to be expensive with just 5 main items you can turn your space from a bachelor pad to a perfectly decorated -party ready living room. 
 GET 15% OFF YOUR ORDER
CODE: BLOGREADER
Swift Décor is an online interior décor retailer. We sell handcrafted products from high quality locally sourced materials made in a fair trade environment and supporting traditional crafting techniques. We want you to love each piece, 100% satisfaction guaranteed. Either YOU love it or return it! You'll be refunded every penny. Browse through our BLOG to get decorating ideas and see where our products have been featured.